Friday 1 June
ANALYTICAL PROGRAM

Concert 1: Live Electroacoustics Starting 19.00
Theodoros Lotis Winter Landscape 1: Brussels
for narrator, tapes and live electronics
asabe Ensemble Tyto alba
Menelaos Alexiou: flute, Panagiotis Myrogiannis: didgeridoo
Haris Pandis: santour, Stelios Tsilglou: Theremin
Theodoros Lotis, Dimitris Savvas: computers
Apostolos Loufopoulos Secret Coast
electroacoustic soundscape
Theodoros Lotis Winter Landscape 1: Brussels 2016. 10 min.
for narrator, tapes and live electronics
Part of a series entitled "Silent Landscapes".
Do sounds carry meaning? Do they appear, reach our ear and fade away to indicate something, or they just exist independently of any connotation we attach to them? Can the soundscape of a terrorist attack, as the one in 2016 in Brussels, be disconnected from the terrorist act, its memory and connotations? "Winter Landscape 1: Brussels" creates a neutral space in which excerpts from the live radio broadcasting of the terrorist attacks in Brussels can be hardly heard. At the same time, the performer reads the first online announcements and tweets, uploaded by international media, without uttering their meaning. Quietly, in a transparent soundscape, the sounds are allowed to exist without emotional engagement.
Theodoros Lotis studied the guitar, flute, music analysis, electroacoustic composition and fine arts in Greece, Belgium and the UK. His music has been performed at festivals and conferences in Europe, Australia, America and Asia, and has received a number of awards and distinctions at Bourges (France, 2000), Sculpted Sound Composers Competition (UK, 2000), Metamorphoses (Belgium, 2000, 02, 16), Luigi Russolo (Italy, 2000, 02), CIMESP (Brasil, 2001) and and Jeu de temps / Times Play (UK/Canada, 2002). He was awarded the first prize at the Concours International de Spatialisation pour l'Interprétation des Ouevres Acousmatiques by Musiques et Recherches, in Brussels. He has done commissioned work for Musiques et Recherches (Belgium, 1997, 2000, 2012), Sculpted Sound Composers Competition (UK, 2000), Amici della Musica di Cagliari (Italy, 2001), the festival Visiones Sonoras (Mexico, 2007) and the clarinetist Esther Lamneck (as invited composer at the New York University in 2012). Having produced several instrumental works and collaborated with artists from various disciplines (dance, theatre, video) his current endeavours in music are focused on spectrum, timbre and sonic space. He has completed a Ph.D. in Music at the City University, London, thanks to grants from the British Academy (Arts and Humanities Research Board), and the Foundation A.S. Onassis. Theodoros Lotis has been teaching electroacoustic composition and analysis at Goldsmiths College, University of London, the Technological and Educational Institute of Crete, the Aristotle University of Thessaloniki, Greece and Universities in Europe and America as invited composer. He is Assistant Professor at the Ionian University, Corfu, Greece, where he teaches Sonic Arts, Electroacoustic Composition, History and Aesthetics of Electroacoustic Music, Music Informatics, Programming for Music and Live Electronics. He is founding member of the Hellenic Electroacoustic Music Composers Association (HELMCA) and the Hellenic Society for Acoustic Ecology. His music has been released by Empreintes Digitales (www.electrocd.com).

asabe Ensemble Tyto alba


asabe [all sounds are born equal]
The asabe ensemble (all sounds are born equal) is an experimental music group of the Ionian University's Music Department. They improvise frequently and work towards the equality of all sounds. Their performances include secret and public concerts on a public bus in Corfu, the Polytehno Arts Centre (Corfu), the Alte Schmiede in Vienna, an abandoned canning factory in Prespes, The Booze in Athens and the Moni Lazariston in Thessaloniki.
Apostolos Loufopoulos Secret Coast
electroacoustic soundscape
"Secret Coast", as a sound world, is a continuous transition from real to unreal and vice versa, a "hypnotic" state between dream and reality, a sequence of different places and times. The concept of "coast" is metaphorical: it is the dividing line between the real (earth) and the dream / non-real (sea / seabed) world, the point where reality stops and the imagination starts.
In Secret Coast - as in human imagination - there are many possibilities: Natural landscapes that are revealed and gradually are transformed into unreal, abstract environments flooded by unknown, unexplained behaviors, mystery harmonies, emotions. In the above sound environment, the human factor often appears as an observer of the physical world and sometimes as a promoter of sound action. Composed as part of a research project (Pythagoras II - Ionian University - Ministry of Education - Study and recording of selected Greek Soundscapes). Awarded a honorary Mention @ Bourges 2009 International Composition Competition, Bourges, France
Apostolos Loufopoulos studied music at the Ionian University, Greece (Music Degree) and at City University, London (PhD in Music). His work is mainly focused on the composition of electroacoustic music and nature, but also in the inter -contextual approach to music and the convergence of musical genres. His music has been performed internationally in renown festivals of contemporary music (such as ICMC, Synthese, L'Espace Du Son and others) and has received a number of awards at international competitions such as Αrs Electronica (Austria), Bourges (France), Noroit (France), Metamorphoses (Belgium), Space of Sound (Belgium), Franco Evangelisti (Italy), Musica Nova (Czech Republic). Discography includes collections by INA-GRM, Musiques & Recherches, Ionian University, CyberArts, Touch Records and a personal release (CD-baby). His scores have been published by S. Zerboni (Milano) and Just Flutes (London). At a research level, he has participated in international programmes related to the study of the natural environment (Pythagoras, optic-acoustic ecology), at a post doctoral level, materializing essays and papers on the artistic exploration and utilizarion of the natural world. He has been organizing member for national and international conferences and festivals on contemporary music and technology (ICMC, Days of Electroacoustic Music, conference on acoustic ecology, audiovisual arts festival and others). Since 2014 he is Assistant Professor at the Ionian University, Department of Audio & Visual Arts. He has also taught at the TEI of Ionian Islands (2006-2014) and the TEI of Epirus. He is a founding member of HELMCA (Greek Union of Composers of Electroacoustic Music) and the Greek Society for Acoustic Ecology. In parallel, he is music producer and director at Studio RED (Athens), specializing in the areas of recording, sampling orchestration and mixing, on various musical styles.
Concert 2: Live Visuals and Electroacoustics Starting 20.30
Thomas Vallianatos Aliensscapes
live audiovisual interactive presentation
[di]afaneis heroes apo__peira
for video with live soundtrack
Simona Sarchi: video
Dimitris Savva and Nikos Kanelakis: Computers
Andreas Mniestris: baritone saxophone
⚭
Thomas Vallianatos Aliensscapes διάρκεια: 30 min.



The project "AlienScapes" is a live audiovisual performance. Microscale paintscapes of abstract expressionism as well as fractal images, triggered by live electronic sounds, produce a new aesthetic image and ultimately a new aesthetic rendering of nature.
Thomas Vallianatos is Lecturer in Digital- Graphic Arts in the Department Of Audio & Visual Arts in Ionian University. He is professional audiovisual artist over 25 years. His art works (comics, animation, music, live visuals) have been presented at various international festivals and art exhibitions.
[di]afaneis heroes apo__peira
for video with live soundtrack
Simona Sarchi: video
Dimitris Savvas and Nikos Kanelakis: Computers
Andreas Mniestris: baritone saxophone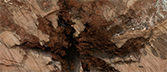 Το[di]afaneis heroes are a collaboration that has emerged specifically for this presentation with the aim of creating a sound zone that real-time invests a video by Simona Sarchi. For this musical intervention, sounds from a (perhaps not so much) traditional instrument [baritone saxophone] mined with (perhaps not so much) traditional techniques are modified, reshaped and repositioned in the already formed acoustic landscape that continuously produce digital audio processing devices and (re)production encased in computers.
Simona Sarchi is Italian photographer and graphic designer. The video is an adaptation specifically for this concert of part of a larger work based on the ancient philosophical considerations of the four elements (earth, air, water, fire).
Simona Sarchi (video) is an Italian photographer and graphic designer.
Andreas Mniestris (baritone saxophone) teaches electroacoustic music composition in T.M.S.
Dimitris Savva (computer) is a composer of electroacoustic music graduate of the MSc and in this time he completes his doctoral research at the University of Sheffield, England.
Nikos Kanelakis (computer) is a graduate of the MSc specializing in the synthesis of electroacoustic music (english translation by Mr. Google Translate, whom we thank very much)
Saturday 2 June
ANALYTICAL PROGRAM



Concert 3: Acousmatic Works by Greek Composers Starting 19.00
collaboration with HELMCA
Konstantinos Stratoudakis Ultimate Effort
Vassilis Roupas Hardcore Zen
Katerina Tzedaki A Soundwalk
Dimitris Savva Kochylia (Sea Shells)
Konstantinos Karathanasis Study on a Monochord
Tim Ward A Small Enclosed Landscape
⚭
Costis Stratoudakis Ultimate Effort (1986 UPIC-TAPE MUSIC)
Ultimate Effort was created on the digital sytem "UPIC" invented by the composer Iannis Xenakis. It was performed at the electroacoustic music festival of Bourges in 1986, where it made an impression, and the next year it was awarded the "residence" prize in the International festival of electraocoustic music of Bourges. Since then, it has been performed in many countries. It was also awarded the list prize of the electroacoustic music competition of the Centre of Contemporary Music Research of Athens (KSYME) in 1986.
Hardcore Zen is composed mainly from electric guitar (distorted) sounds. It also includes the voice of a child playing with a wooden toy. The piece tries to demonstrate that noise, when used artistically, can be ecological (see Joseph Nechvatal's book "Immersion into noise"). In that sense, the word hardcore is associated with noise and the word zen is associated with ecology. Therefore, the title of the piece could be "Noise Ecology". This idea interests me and I intend to elaborate on it in my future projects.
Vasilis Roupas was born and lives in Athens (1963). He first studied piano and computer science and then advanced theory and composition. He has been involved in electronic / electroacoustic music since the late 1980s. He is a founding member of the Hellenic Association of Composers of Electroacoustic Music and a member of the Hellenic Society of Acoustic Ecology.
a Soundwalk (2017) – to Hildegard Westerkamp
This composition started as a personal experiment to impose the structure of a soundwalk* to a fixed media composition. Consequently it became a composition through and about soundwalking. The last months of 2016 I had the opportunity to guide four soundwalks and this experience of silent listening together with a group of people, while walking and exploring the soundings of different places was a mind and soul opening experience. In the piece only short fragments of the Santorini soundwalk recording* together with other sonic elements - recorded or manipulated - have been used. The voice of a child – listener in the Santorini soundwalk (October 2016) has been included without any editing other than selecting the appropriate fragments of the recording.
Katerina Tzedaki Born in Rethymnon, Crete (1964), she studied music in Athens (1984-1991) with I. Ioannidis, S. Vassiliadis and D. Kamarotos. She completed her studies in electroacoustic music composition at City Univeristy (MA, 2002) and De Montfort University (PhD, 2012) with supervisor Simon Emmerson. He is a founding member of ESSIM and the Greek Society of Acoustic Ecology, and in recent years he has been working at the Department of Music Technology & Acoustics at TEI of Crete. Her music has been presented in various countries, times and circumstances. He lives and works in Rethymno, Crete. www.tzedk.wordpress.com
Kochylia (Sea Shells) 2014
" The coach shell is the voice of Buddha the birth-bed of Aphrodite, the horn that drives away the daemons and draws the lost mariners home from the sea. Couloured by the moon, shaped by the primal geometry, it is the original dreamboat, the sacred submarine that carries fertility to its rendezvous with poetry" Tom Robbins, Skinny Legs and All, page 70
Dimitrios Savva was born in Cyprus, 1987. He received his Bachelor degree (distinction) in music composition from the Ionian University of Corfu and his Master degree (distinction) in Electroacoustic composition from the University of Manchester. In January 2015 he started his full funded PhD in Sheffield University under the supervision of Adrian Moore and Adam Stanovic. His compositions have been performed in many international festivals of electroacoustic music. He received prestigious awards for his work: first prize ex-aequo in the student category of acousmatic composition competition Metamorphoses 2012, the public prize at the composition competition Metamorphoses 2014 and the Franz List residency-scholarship award.
Study on a Monochord This acousmatic composition is an offshoot of the sound design for Daren Kendall's installation and performance Resonance + Relay, as it was presented in the Lightwell Gallery at the School of Visual Arts at the University of Oklahoma in 2016. The majority of the sounds hear derive from a sound sculpture loosely resembling a monochord: a steel piano string stretched on a twisted metal tube, resting vertically on a squeaky metal base, amplified by a contact mic. Other sounds came from the tools the artist used to build the installation. All sources were processed live in various degrees through GRM Tools and SoundMagic Spectral plugins by Michael Norris, producing materials that lasted for more than two hours. During the installation four loudspeakers diffused these sounds in the gallery by using weighted probabilities and Markov chains in MaxMSP. This stereo version arranged in ProTools contains a small subset of the original installation sounds.
Konstantinos Karathanasis (born in Athens, Greece) is an electroacoustic composer who draws inspiration from modern poetry, artistic cinema, abstract painting, mysticism, Greek mythology, and the writings of Carl G. Jung and Joseph Campbell. Equally interested in acousmatic, soundscape, instrument and live electronic genres, he carefully orchestrates elements of sound objects processed in various degrees and unprocessed field recordings in his compositions. Clear music structures with identifiable sections and formal functions play also an important role in his compositions. His electro-acoustic compositions have been performed at such festivals as ICMC, ICEM, NYCEMF, SEAMUS, SYNTHESE, Wittener Tage für neue Kammermusik, Musica Viva, BIMESP, SICMF, Sonorities, NAISA, EMM, and Third Practice among others. His music has received recognition in a number of international competitions, including the International Competition of Electro-acoustic Music in Bourges, Musica Nova in Prague, SEAMUS/ASCAP, Musica Viva in Lisbon, and SIME in Lille. Recordings of his music are released by SEAMUS, ICMA, Musica Nova, Innova and HELMCA. He holds a Ph.D. in Music Composition from the University at Buffalo and is currently an Associate Professor of Composition & Music Technology at the University of Oklahoma.

A Small Enclosed Landscape lasts just over two minutes and in that time tries to capture the view through a sonic window that looks out over a space many times larger.
Tim Ward composes electroacoustic music as well as soundscape works designed for performance over multiple loudspeaker diffusion systems, He is also involved in improvisation using real-time sound transformation systems.
Concert 4: Video and Live Electroacoustics Starting 20.30
Robert Ashley Yellow Man With Heart With Wings
Luc Ferrari Presque Rien No 1
Yellow Man With Heart With Wings, is an extended song, with text by the composer, for voices and electronic instruments. The central theme is agriculture and the geometry of the land: how this idea has spread in society and what it has engendered. Commissioned by radio station KUNM-FM in Albuquerque, NM, the subject of the piece is subtly tied to the history of that land: "The idea of agriculture is improvement. Flatness as a solution to the problem of gravity, confused with the idea of feeding the people, is something we have to live with." The text consists of images and ideas from two other works by the composer: in memoriam ... Kit Carson (hardly a favorite character in New Mexico history but important for representing a certain social concept), and The Church from the opera-for-TV Perfect Lives. [..] ("Blue" Gene Tyranny)
Robert Ashley:Composer, Liner Notes, Lyricist, Multi Instruments, Primary Artist, Producer, Vocals, Voices
Guillermo Grenier:Performer, Primary Artist, Translation, Voices. Tim Schellenbaum: Engineer.
Andreas Mniestris:Remixing. Ned Sublette: Producer. Allan Tucker: Digital Editing, Editing, Mastering
"Blue" Gene Tyranny: Clavinet (https://www.allmusic.com/album/ashley-yellow-man )
A distinguished figure in American contemporary music, Robert Ashley holds an international reputation for his work in new forms of opera and multi-disciplinary projects. His recorded works are acknowledged classics of language in a musical setting. He pioneered opera-for-television.[..] Born in Ann Arbor, Michigan on March 28, 1930, Robert Ashley was educated at the University of Michigan (Mus.B., 1952, Music Theory) and at the Manhattan School of Music (Mus.M., 1954, Piano and Composition.) From 1957 to 1960 he continued to study Composition and Acoustics at the University of Michigan's Speech Research Laboratories (psycho-acoustics and cultural speech patterns), and was employed as a Research Assistant in Acoustics at the Architectural Research Laboratory.[..]During the 1960s, Ashley organized the ONCE Festival, the annual festival of contemporary performing arts in Ann Arbor which, from 1961 to 1969, presented most of the decade's pioneers of the performing arts. He directed the highly influential ONCE Group, a music-theater ensemble that toured the United States from 1964 to 1969. During these years Ashley developed and produced the first of his mixed-media operas, notably That Morning Thing(revived in 2011 by Performa and The Kitchen) and In Memoriam...Kit Carson. His principal income during this period was derived from films and film music; he was employed free-lance by professional producers to provide sound tracks for industrial, educational, advertising and feature films. He also produced original music and sound tracks for several art films by George Manupelli.[..]In 1969, Ashley was appointed Director of the Center for Contemporary Music at Mills College (Oakland, California), where he organized the first public-access music and media facility. From 1966 to 1976 he toured throughout the United States and Europe with the Sonic Arts Union, the composers' collective that included David Behrman, Alvin Lucier and Gordon Mumma. With the support of the Rockefeller and Ford Foundations, Ashley produced and directed, Music with Roots in the Aether: video portraits of composers and their music, a 14-hour television opera/documentary about the work and ideas of seven American composers, which premiered at the Festival d'Automne à Paris in 1976 and has since been shown worldwide in over 100 television broadcasts and closed-circuit installations.[..]In 1980, the Kitchen (New York) commissioned Perfect Lives, an opera for television in seven half-hour episodes. After developing the opera in live tour performances throughout the US, Canada and Europe, Perfect Lives was co-produced with Great Britain's arts network, Channel Four. First broadcast in Great Britain in April 1984, Perfect Lives has since been seen on television in Austria, Germany, Spain and the United States and has been shown at film and video festivals around the world. It is widely considered to be the pre-cursor of "music-television." In recent years, several groups like Varispeed, Trystero and Matmos have revived this opera in various forms.[..]Ashley has provided music for the dance companies of Trisha Brown (Son of Gone Fishin', 1983), Merce Cunningham (Problems in the Flying Saucer, 1988), Douglas Dunn (Ideas from The Church, 1978 for Dunn's "Coquina") and Steve Paxton (The Park and The Backyard for "PA RT"; Automatic Writing and Dust for "Night Stand"). He was the 2002 recipient of the "John Cage Award for Music" from the Foundation for Contemporary Performance Arts, and a 2008 recipient of the American Music Center's "Letter of Distinction." (Απο το http://www.robertashley.org/)
Luc Ferrari's "Presque rien Νο1, le lever du jour au bord de la mer (1967–70) represents one of the most significant milestones in the development of field recording as it is understood today. His piece, recorded in 1968 in Vela Luka, is both a composition and an execution of auditory memory making. The work demonstrates the agentive capacity of Ferrari's listening and sets a framework for future executions of the relational condition between human listening and the audition of the prosthetic ear: the microphone. […]. Lawrence English, A Memory of Almost Nothing: Luc Ferrari's Listening During Presque Rien No. 1. Leonardo Music Journal, Issue 27, December 2017, p.17-20
Following the complete disappearance of abstract sounds, we can regard this piece as a sonic snapshot and the culmination of an evolution. This is a realistic rendering (as faithful as possible) of a fishing village waking up. The first idea of minimalism. [https://recollectiongrm.bandcamp.com/album/presque-rien]
Luc Ferrari was born in Paris in 1929. What about this first sentence; first 1929. He wrote several autobiographies, with falsified data. Writing drives him mad, you never should ask him about that. And whereas he didn't dare to make himself younger, he made himself older. So there is a lot of false data going around, which he enjoyed before. Now he doesn't enjoy it so much anymore. Next: born in Paris. He questions himself: born in Paris! He wonders what if he'd been born in his father's small village in Corsica? What if he'd been born in Marseille where his mother grew up? He wonders what he would have become if he'd been born in Italy, the land of his forefathers and foremothers. He does not have any answers to all these questions. While he studies piano at the conservatory and other schools he starts composing in 1946. From 1952 on he goes to Darmstadt where his works are performed as well as in Paris and Köln « Musik der Zeit ». In 1958 he enters the Groupe de Musique Concrète where he stays until 1966. Creates with Pierre Schaeffer the Groupe de Recherche Musicale (1958-59); teaching activities, series of broadcasts on Musique Concrète, artistic and research direction of a small ensemble whose conductor is Konstantin Simonovich ; Sound recordings, illustration and co production of a TV-series « Chaque Pays fête son Grand Homme » (1965). 1964-65 he teaches at the Rheinische Musikschule, Köln. He produces in 1965 and 1966 with Gérard Patris a TV series « Les Grandes Répétitions » (Olivier Messiaen, Edgar Varèse, Karlheinz Stockhausen, Hermann Scherchen, Cecil Taylor).In 1966 he teaches experimental music in Stockholm. Invited by the DAAD he spends the year 1967 in Berlin. Back in France he is in charge as artistic director of the Maison de la Culture d' Amiens until 1969. In 1972 he builds up his studio « Billig », a modest electro acoustic workshop. He creates in 1982 the association " La Muse en Circuit », a studio for electro acoustic composition and radio art which he leaves in 1994.In 1995 a Ferrari season « Parcours Confus » is organized throughout Holland. He builds up in 1996 his own home studio, which he calls Atelier post-billig. In 1997 conference and concert tour in California before he visits in 1998 the American southwest as an itinerant sound hunter and composes a radio series « Far-West News » for the Dutch Radio NPS.In 2001, retrospective of all his electro acoustic compositions as well as his radio art pieces organized by the Futura festival, Crest in France. He travels again in the United States for a concert tour in 2001 and in 2002 Tokyo invites him for a concert series. Also in 2003 he is invited again to Tokyo, with among many of his other pieces "Paris-Tokyo-Paris" commissioned by the Ensemble New Generation, then to Marseille as well as to Switzerland, La Chaux de Fonds, each time for a retrospective of his works during a week.In 2004 the ensemble Ars Nova organizes a Ferrari-retrospective during a week of his electro acoustic, solo and orchestra works with the city of Poitiers and "one week with works by Luc Ferrari, an out of line composer who cannot be categorized, " within the Lille 2004-festival « AUDIOFRAMES, paysages sonores ». One more week with Ferrari's compositions for ensembles, electro acoustic works, as well as his audio-visual installation "Cycle des souvenirs" in November 2004, organized by the NOVELUM festival of Toulouse.In 1972, he received Karl Sczuka Award for his radio piece Portrait-Spiel, (Production Südwestfunk, Baden-Baden). For his composition Et si tout entière maintenant, Luc Ferrari was awarded with the Prix Italia in 1987, again the Karl Sczuka Award in 1988 for his radio art Je me suis perdu ou Labyrinthe Portrait. In 1989 Grand National Award from the French Culture Ministry, in 1990 the Koussevitzky Foundation Award for his symphonic piece Histoire du plaisir et de la désolation and, in 1991 again the Prix Italia for his radio art L'Escalier des aveugles.Luc's life ended in Arezzo, Italy, on 22nd of August 2005."Les Anecdotiques – Exploitation des Concepts N° 6" and "Archives sauvées des eaux – Exploitation des Concepts N° 1" were awarded Le Grand Prix Charles Cros in Memoriam on the 24th of November 2005.
[http://lucferrari.com/en/biography]