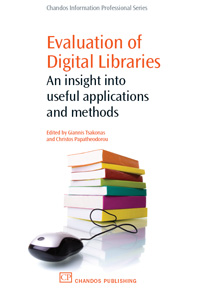 This book comes in an emerged context of intense transformations in the digital library area. In the major digital library conferences at both sides of the Atlantic Ocean researchers organized workshops to circulate in a focused environment their concerns about the development of this area, such as the "Digital Library Evaluation: Metrics, Testbeds, and Processes" workshop in ECDL2003 and the "Studying Digital Library Users In the Wild: Theories, Methods, and Analytical Approaches" workshop in JCDL2005. Several other initiatives organized workshops in search of a formalized state-of-the-art, like the DELOS Workshop on Evaluation of Digital Libraries in Padua, Italy.
The book deals with issues that both the theoretical and practical aspects of digital library evaluation, such as reasons for evaluation, processes, tools and methodologies and prospective outcomes. The approach of inviting experts to write specific chapters ensures the quality by expertise, while the editorial management of the proposing editors guarantees a coherent and easy to read work of thorough knowledge on this area.
See Table of Contents and Scope of publication.